The Ultimate Wardrobe Hack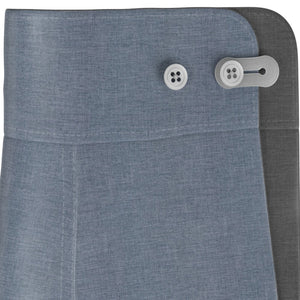 Simple To Use
Easy to apply and remove, slip over shirt cuff button to provide opening for cufflinks to fit through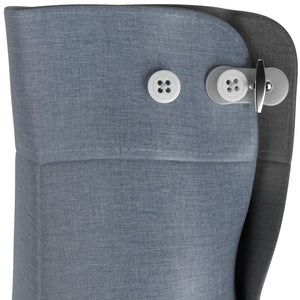 Improved Style
Up your style game with the ability to wear Cufflinks any and every day of the week
Shop Now
Versatility
Can be worn with the shirt cuff down or folded up to mimic a French Cuff shirt
I've found french cuff shirts to be bulky under my suit jacket or get stuck outside my suit jacket. However, I love adding cuff links. These are a great way to add cuff links easily to any shirt. They hold super tight to the cuff links, I have no fear of them falling off. Love these and I appreciate the multi pack for when I inevitably lose a few and I can even leave a couple at work.

Tilk
A very clever device.I prefer to attach this to the inner of my 2 cuff buttons and instead of letting the cuffs stick out straight, I curl the top cuff under for a round cuff. That way the silicone tabs are completely hidden.I can get a dressy look whenever I want it.

Dalton B.
One of those products that makes you say to yourself "How and why didn't I think of that!" I own a lot of dress shirts, of them all not one has french cuffs. This is an extremely efficient alternative to having your shirts tailored or buying french cuff shirts. Also you have the option to switch between both styles in case you have button covers you like to wear as well. The product is extremely durable , made of thick silicone. I stretched each one to see if they would tear or rip and to my surprise not one of them did.

Philip P.
I bought these for my husband. He found some cufflinks he wanted, but didn't have any shirts that he could wear them with and didn't want to buy new shirts in order to wear them. I found these and decided to try them. They work great and my husband is very pleased with them!

Allison C.
One of the best inventions yet. I have many cufflinks that were left to me by my father which I could never use because I never had a shirt that allowed cufflinks. Now I can wear his cufflinks at work, parties, church with no problems. Again, excellent product, very durable and practically invisible.

Cosmo Z.
Excellent idea! These work great! I actually like it better than regular French Cuffs for daily wear. Less fabric bulk and a lighter feel. You can use them two ways, over or under. (There are instructions on the package and inside. Both work well.)

Daniel D.
These are a great little product to have on hand! My son recently started wearing cuff links, and any new shirts he purchases will have French cuffs. But he has a lot of favorite regular-cuff shirts from before he began using cuff links, and we thought those would have to be pushed to the back of the closet. Then I found these little gems!! These are easy to use, and they work exactly as described. Out of the two ways to use them, the rolled up cuff seems to have a slightly tighter hold and better look. But both ways work. I am now ordering some for my husband, as well!!

Linda R.
All of my shirts are regular cuffs. I experimented with these awhile. The best is that I have very broad shoulders, so always have to get large or extra large shirts, which means the shirts always have sleeves that extend to my hands. With this product I can roll my sleeves back making them the right length and accent the look with cuff links. I like these a lot.

Kevin S.
My husband prefers to wear cuff links with his dress shirts. Unfortunately, finding french cuff shirts is not easy. I was taking the regular shirts to the tailor to have a second button-hole sewn in. This is an easy and inexpensive way to fix the problem.

Beldnzr
How To Wear Cufflinks With Any Button Down Shirt
PRIVATE LABEL & WHOLESALE
For Private Label and Wholesale Inquiries, please email us at sales@cuffstyle.com